Creative operations can be used in any industry where companies have a sales and marketing department. In this section, we'll go over some of the ways that different companies in different industries have successfully implemented creative operations for their organization.
By streamlining their workflows, advertising companies can focus less on the mechanics of the actual process, and more on innovative ideas that will draw in customers and beat their competitors. In addition, thanks to automation technologies, many advertising companies can save a great deal of labor when creating, producing, and delivering content.
With email, social media, native advertisements, streaming video, and a variety of other digital platforms, in-house marketing departments have more on their plate than ever before. Managing and distributing content across each of these channels, while maintaining a consistent message and an exceptional customer experience, is by no means an easy feat.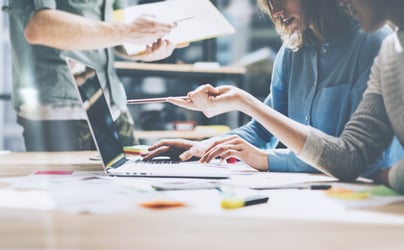 By leveraging cutting-edge technology solutions for creating and delivering content, you can vastly simplify the creative process. Maintaining your branding and messaging within a single central hub will help you build the right campaigns for the right people and get them reviewed and approved more quickly.
Consumer/Retail
Running effective advertising and marketing campaigns is crucial for retail companies: they spread awareness of your brand, attract the right clientele, and communicate new sales and promotions. 60 percent of consumer goods purchases are made based on the strength of their brand communications.
However, orchestrating better campaigns and targeting the right customer segments will require the right technologies and a more organized, more efficient creative workflow. IOI recently helped one big-box retailer boost its sales by $10 million by making a few key adjustments to its marketing workflows. For example, the retailer now takes 4 months, instead of 6 months, to produce weekly newspaper inserts and direct mailings, and requires one-third fewer staff to do so.
Manufacturing
Sales and marketing departments in manufacturing companies face challenges unique to their vertical. With a variety of products on offer, businesses need to run a variety of campaigns targeting different audiences across multiple channels—all the while maintaining a consistent branding, logo, tone, style, and more.
Producing campaigns for different locations, regions, and languages in both digital and print media can be taxing on even the most skilled marketers. That's where creative operations comes in: helping you make your creative processes more efficient and effective with the right tools and technologies.
Publishing
The publishing industry is changing rapidly as more and more people choose to consume publications on digital devices such as smartphones, tablets, and e-readers. Many publishing companies are operating on razor-thin margins in terms of both time and budget in order to release the content that their readers are hungry for.
Offerings such as IOI's DALIM ES online proofing software dramatically simplify and speed up the creative process for publishing companies. DALIM ES allows teammates to share, review, and mark up proofs from any device with Internet access. The software also includes features such as version control and real-time status tracking that are critical for creative operations.